⚛️ Urovant Sciences Talent Connect Event 4/26/22
April 26, 2022 @ 4:00 pm

-

7:00 pm

EDT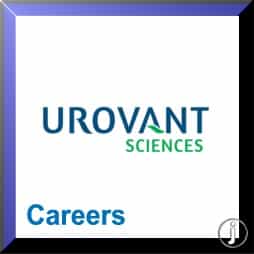 Urovant Sciences in attendance at the Virtual Talent Connect Event on April 26 2022
Urovant Sciences is a biopharmaceutical company focused on developing and commercializing innovative therapies for a range of urologic conditions. Our goal is to be the leading specialty company, recognized and trusted by patients and providers for our commitment to urology. At Urovant Sciences, we aim to advance urological patient care through execution of our core values:
Integrity and Compassion
Our commitment to improving patients' lives begins with personal integrity and how we treat each other.
Bold Innovation
We deliver bold innovation through diversity of thought, openness to new ideas and adaptation to change.
Achievement Through Collaboration
We achieve excellence by uniquely optimizing our collective individual strengths and expertise.
Urovant Sciences is driving scientific innovation to improve the quality of life for patients living with urological conditions.
Our current area of research focus is Overactive Bladder (OAB). We are currently investigating treatments for OAB in men with benign prostatic hyperplasia (BPH), as well as third line treatments for OAB symptoms in patients who have failed oral pharmacologic therapy.
Every team member has the ability to make an impact to our success.
We are ambitious in our approach to improve outcomes for the patients and healthcare providers we serve. To challenge team members and grow careers, we reward innovation, teamwork, and a winning mindset that produces results.
---
Talent Connect is a new level of life sciences networking, taking place from 4 pm-7 pm eastern time on April 26, 2022. Join online from any device to make meaningful connections with peers, HR representatives, recruiters and hiring managers from top biotech, pharma, medical device and diagnostics companies.
Who should attend?
All life sciences professionals are invited to attend, including PhD and Postdoc candidates as well as professionals with life sciences experience in any discipline. Your resume is required to register.
What companies will be there?
A full list of companies will be posted here prior to the event. If you can't make it on event day but are willing to relocate to the area, you should still register a few days before the event. Employers will be able to view your resume and know you're interested.
What types of positions are available?
Employers are recruiting for positions in areas such as: QA/QC, clinical research, engineering, manufacturing, biostatistics, clinical data management, chemistry, regulatory affairs, project management, research and more. Click on the employers names to access their company profile on BioSpace. We highly recommend researching each company before you attend the event.
Resume is required to complete registration. No solicitation is allowed at this event.
Employers:
Are you looking to connect with top-tier life sciences candidates? Want to take your employer branding to the next level? Contact us to reserve your company's space today at (877) 277-7585 or email [email protected].