Real Estate Agent
July 16, 2022

-

September 15, 2022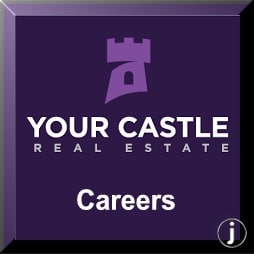 Job Description
The Real Estate Agent is the front line player in any Real Estate company. By networking and communicating with hundreds of individuals, Real Estate Agents facilitate housing transactions within their own communities. Due to the autonomous nature of the career field, an opportunistic and proactive attitude is needed for success in the Real Estate Agent career field. The Real Estate career field is best suited to driven, independent, and achievement focused individuals.
Real Estate Agents earn commission on each transaction they make. This means that your earning can be an product of the time you put in. As you facilitate more transactions, you earn more compensation. Real Estate Agents who excel can earn over $100,000 a year after they've built a client base. The more work you put into establishing a client base, the more money you will earn.
Regulatory Notice: While a real estate license is not required to apply, you must obtain a real estate license before officially being hired. To earn a real estate license you will need to complete real estate classes (online or in-person) offered by an accredited learning institution and pass a state licensing exam. To learn more about the real estate licensing process, apply now and our recruiting team will provide additional details.
Job Responsibilities
Interact with customers via phone, email, and social media
Advise contacts on the state of the real estate market
Collect and distribute information concerning the need to buy or sell real estate
Answer questions about contracts and terms of sale
Utilize computer technology to manage a database of customers and prospects
Assist potential clients with financial decisions concerning real estate
Resolve conflicts that arise during the purchase or sale of real estate property.
About Your Castle Real Estate
Established in 2004, Your Castle Real Estate has grown to become the largest independent and fifth largest overall real estate company on the Front Range, with a current network of 500+ agents in 6 offices. Additionally, Your Castle is the 135th highest producing brokerage in the country and the 66th largest independent real estate brokerage. Your Castle Real Estate leverages its wide spanning data and local knowledge to provide the best real estate service in Colorado.
Working Here
Don't just find a job, find a career. Marketing and Training matters. We would like to extend the opportunity to discuss how our unique tools, training, and technology can help you achieve your real estate career goals! Our slogan at Your Castle is "Local Knowledge. Total Commitment." Our in-house researchers work hand-in-hand with our Founder Lon Welsh to create some of the most innovative real estate trends pieces out there.
Our Equal Opportunity Promise
We are committed to fair hiring practices and operate as an equal opportunity employer. We do not discriminate on the basis of race, sexual orientation, age, marital status, religion, or nation of origin. We pride ourselves as being exceptional leaders and members of our community and we're committed to treating all our potential employees with the same level of care and respect.
Industry
Real Estate