1/15/2022 – Healthcare Allied Services Job Fair [Wilkes-Barre PA]
January 15, 2022 @ 9:00 am

-

2:00 pm

EST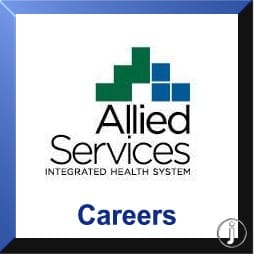 Allied Services Wilkes-Barre Rehab Hospital, Lobby, 150 Mundy Street, Wilkes-Barre
Call 570.348.2222 for more information
2022 is your year! Allied Services is invested in you and your success. That's why we offer on-the-job training, competitive rates, generous sign-on bonuses, career advancement opportunities, and ongoing educational support. At Allied Services, you have the tools to be successful today, and for years to come.
NEW for 2022!
After 6 months of employment, Allied Services employees are eligible for up to $5,000 per year tuition reimbursement for training or course at an accredited university, college, business school, vocational institution, or other facility recognized by Allied Services. Effective January 1, 2022
Starting in 2022, Allied Services employees, both full-time and part-time, will be eligible for a Lackawanna College Business Partners Scholarship. The scholarship program provides up to $5000 in tuition support per year from Allied Services with the remaining balance covered by Lackawanna College.
Join us at our Job Fair
Allied Services is hiring now for all positions. You're invited to join us for our in-person Job Fair. We're hosting Job Fairs in 2 locations in Scranton and Wilkes-Barre. Stop by to speak with our experienced Human Resources professionals and receive an on-the-spot interview.
Saturday, January 15, 2022, 9:00 a.m. – 2:00 p.m.
Allied Services Luger Scranton Rehab Center, Community Room, 475 Morgan Hwy, Scranton
Allied Services Wilkes-Barre Rehab Hospital, Lobby, 150 Mundy Street, Wilkes-Barre
Call 570.348.2222 for more information
Whether you're looking to start your career in healthcare, take your career to the next level, or earn a little extra in your spare time, look no further than Allied Services. Allied Services has a wide range of career fields and job opportunities, many of them offering generous sign-on bonuses from $250 to $25,000!
Explore job opportunities below or browse all of our jobs here.
Interested in working for Allied Services but not sure exactly which role is right for you?
Simply fill out this QUICK INQUIRY FORM and one of our experienced Human Resources professionals will contact you to discuss your interests.