⚓ The Navy Exchange Service Command at The Disability Virtual Career Fair
April 13, 2022 @ 9:00 am

-

6:00 pm

EDT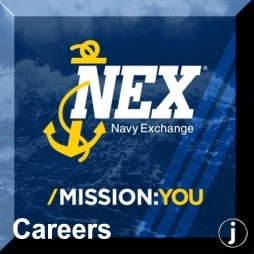 The Navy Exchange Service Command (NEXCOM) scheduled in attendance at the  Disability Virtual Career Fair on April 13 2022, 9am – 6pm EST
Open to experienced & early career jobseekers with disabilities nationwide.
Connecting Job Seekers and Employers  . Inclusion. Employment. Accessibility.
The Navy Exchange Service Command (NEXCOM) is a global organization with 14,000 associates. As a world-class retailer offering a range of products and services, we are proud to serve the best customers in the world – active duty military, retirees, reservists and their families. Our mission is to provide these customers quality goods and services at a savings and support Navy quality of life programs.
Endless Opportunity:
While NEXCOM has six different business lines, the majority of our employees work for the Navy Exchange retail locations, the Navy Lodge hotels, or at NEXCOM corporate headquarters. Working for NEXCOM offers a diverse range of opportunities and career paths for upward mobility or transition through training and experience into a new field of work.
About Our Business Lines:
Our six business lines are: Navy Exchange, Navy Lodge, Ship Store, Uniform Program Management Office (UPMO), Telecommunications Program Office (TPO)  and Navy Clothing and Textile Research Facility (NCTRF).
There are 300 Navy Exchange stores, 40 lodges, over 100 uniform shops along with an uniform mail order program and approximately 160 ship stores operated under our technical guidance providing sailors with a little bit of home across the world.
We welcome applicants from both the civilian and armed services communities. Please visit us at www.NavyExchange.jobs to learn more about NEXCOM and view hundreds of openings around the world!
Website
https://www.mynavyexchange.com/nex/work-for-us
Specialties
Retail Operations, Marketing / Advertising, Restaurant Management, eCommerce, Information Technology, Logistics / Supply Chain, Audit, Human Resources, Finance & Accounting, Buying / Merchandise, Hospitality, Loss Prevention
Relocation Expense May Be Authorized