AIMS Job Fair
March 1, 2023 @ 5:00 pm

-

7:00 pm

EST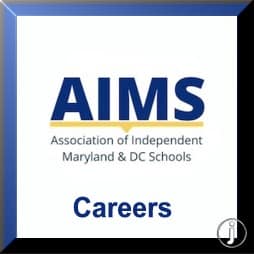 AIMS hosts a Job Fair each year. The fair is intended to promote diversity in faculty/staff/administrators in independent schools. AIMS represents 124 private elementary and secondary, college preparatory schools, in Maryland and D.C. About 35% of the AIMS Schools participate in the Job Fair each year. Current job openings can be found in the AIMS Career Center. Jobs are continually posted to the Career Center, so candidates should refer to this page often both before and after the Job Fair.
A complete list of job openings will be available at the Job Fair and representatives from AIMS schools will be on hand to meet with candidates and discuss the jobs with candidates attending the program. Jobs available at AIMS schools include teaching positions at various grade and age levels, administrator/school leadership positions and a wide variety of staff/professional positions.
There is no cost to job candidates to participate in the Job Fair, but registration is required.
Candidates should register for the Job Fair at least a week before the fair date as information will be sent to schools prior to the event.
In addition to registration, candidates should create an AIMS account and post their resume to this account so that schools have access to their previous job history.
Registration and additional fair information:
Interested job candidates should plan to create an AIMS account.. This can be done before or after registering for the Job Fair. This will enable them to upload their resume to the AIMS portal where school representatives can access the information at any time. Job candidates should also plan to bring copies of their resume with them to the fair.
Schools participating in the fair may reach out to job candidates prior to the fair (but this is at the discretion of the school representatives). Please do not reach out to the schools; they will contact you if they have an opening that matches your qualifications and they are interested in scheduling an appointment with you during the fair or after.
Representatives from the participating schools will be available from 5-7 pm to meet with any interested candidates.
Job candidates should closely review the job openings to ensure that they meet the minimum qualifications for the jobs that they are interested in pursuing. This will assist in the conversations that take place with school representatives the evening of the fair. (Please note that jobs are posted on a continuous basis and all schools participating are asked to post known position openings by mid-February in preparation for the fair.)
If you have any questions about the fair, please email [email protected] or call 410-761-3700 during regular business hours. Thanks!!