6/2 – Alachua County Public Schools Virtual Job Fair [Open to FL's 12 State Universities]
June 2, 2022 @ 9:00 am

-

4:00 pm

EDT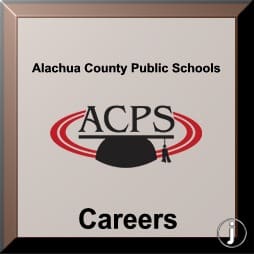 Alachua County Public Schools scheduled in attendance at the  Virtual 2022 Florida Statewide Job Fair on June 2 2022.
Alachua County Public Schools seeks to hire outstanding teachers, support staff and administrators who are committed to educational excellence. Working in the Alachua County Public Schools is an extraordinary experience and employment opportunities are limitless. Meeting your employment and career needs is of great importance to us. We want your talents, your expertise, and your devotion to students. Alachua County Public Schools does not discriminate on the basis of race, color, religion, national origin, sex (gender), marital status, disability (Section 504/ADA), sexual orientation, gender identity, age, genetics or legally-protected characteristics in its educational programs and activities. Alachua County Public Schools provides a high-quality education to more than 29000 students.
1 – Accounting & Finance,2 – Administrative & Support Services,6 – Applied & Fine Arts,8 – Business Management,9 – Commercial & Food Services,17 – Customer Service,19 – Education,30 – Healthcare & Medical,33 – Law,35 – Life & Physical Sciences,37 – Other,41 – Purchasing, Operations & Logistics,42 – Research & Library,45 – Warehouse & Delivery
Bachelor,Masters,Doctorate,Post-Doctorate,Professional Degree (JD / PharmD / MD),Specialists (ED.S)
RESTRICTED TO STUDENTS AND ALUMNI FROM FLORIDA'S 12 PUBLIC UNIVERSITIES [Virtual]
Are you a student or alumni from Florida's 12 state universities looking for a full-time or part-time job? You are invited to participate in 2022 Virtual Statewide Job Fair on June 2, 2022 from 9am-4pm EST.
The University of Florida is partnering with Florida Career Centers to host employers at this year's virtual event. This is an excellent opportunity to meet employers recruiting for full-time and part-time professional opportunities.
Students will have the opportunity to register for appointments with employers beginning Monday May 2nd. Go to https://app.careerfairplus.com/ufl_fl to see a full list of participating employers and to schedule appointments with your preferred companies. Keep checking back leading up to the event as more appointments are added every day.
For more information about the event, visit www.FloridaCareerCenters.org. You can also reach out to us at [email protected] with any questions.