???? 5/21/2022 – Southwest Florida Water Management District Job Fair
May 21, 2022 @ 9:00 am

-

12:00 pm

EDT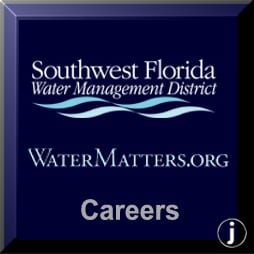 Saturday, May 21
9 a.m.–12 noon
Tampa Service Office
7601 US Hwy. 301 • Tampa, FL 33637
Just a Few of the Many Career Fields at the District
Administrative/Business
Accounting/Finance
Maintenance & Trades
Fleet Mechanic
Heavy Equipment Operator
Environmental Scientist
Engineer
Information Technology
Well Driller
Legal
Communications
Procurement
About Us
Managing the water resources for west-central Florida, our district includes approximately 10,000 square miles of territory spanning 16 counties and serving more than 5 million residents. Established in 1961 as a flood-protection agency, our objective is to meet the needs of current and future water users, protect and preserve our water resources, manage the water supply, protect water quality, and preserve water-related functions.
The District prides itself on providing a positive work flexible environment that engages and supports our employees. This could be the opportunity of a lifetime.
#WorkForOurWater
Equal Employment Opportunity/Veterans Preference/Drug-Free Workplace/Tobacco Free Campuses.
All applicants shall receive equal consideration and treatment in employment without regard to race, color, religion, ancestry, national origin, age, sex, marital status, familial status, or medical condition. All recruitment, hiring, placements, transfers and promotions will be on the basis of individual skills, knowledge and abilities, and the feasibility of any necessary job accommodation(s).
The Southwest Florida Water Management District (District) does not discriminate on the basis of disability in regard to job application procedures, hiring, and other terms and conditions of employment. It is further the policy of the District to provide reasonable accommodations to qualified individuals with disabilities in all aspects of the employment process. If you require reasonable accommodation in completing an application, interviewing, completing any pre-employment testing, or otherwise participating in the employee selection process, please direct your inquiries to (352) 796-7211 or 1-800-423-1476 (FL only), ext. 4747; or email [email protected] If you are hearing or speech impaired, please contact the agency using the Florida Relay Service, 1-800-955-8771 (TDD) or 1-800-955-8770 (Voice). In the event of a complaint, please follow the grievance procedure located at WaterMatters.org/ADA.
The District participates in E-Verify employment eligibility verification. We will provide the Social Security Administration (SSA) and, if necessary, the Department of Homeland Security (DHS), with information from each new employee's Form I-9 to confirm work authorization.